Right, so this is the last installment of the
7 Laws In Hermetic Philosophy
. To all of you who have followed this series, whoever you are, I appreciate your patience despite the lengthiness of the previous posts. To those who will find this article here by chance, please refer to the link I have just provided for you to know what this is all about.
Anyway, so the
Kybalion
states that
the All is Mind; the Universe is mental. The Universe, and all it contains, is a mental creation of The ALL. He who grasps the truth of the Mental Nature of the Universe is well advanced on The Path to Mastery
.
These are probably the most significant statements that you will find in the chapters pertaining to the
Law Of Mentalism
, but how should I begin to explain this exceptionally complicated concept?
Hmm, how about answering a simple question like…
What Is Real?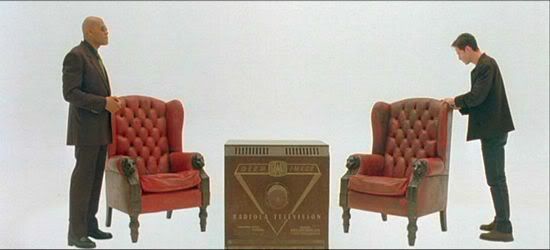 Bleh! It's not that simple. Ok, we can address this question using ontological, empirical, rational, constructive, reductionistic, and all sorts of philosophical arguments or we can just use simple reasoning. To keep my sanity, I'd like to use simple reasoning, if you don't mind.
It is said that in order for something to be "real" it must first have "substance."
So, we ask, "What is substance?"
Substance is a permanent property of an object, i.e. something that never changes. The totality of objects that we see around us is what makes our reality, but without substance, an object can no longer remain as itself and it becomes some other object. Substance is the fundamental nature that lies beneath everything that exists. The next question therefore would be:
"Where can we find this 'substance'?"
The smartest people on the planet suggest that this substance is found in the smallest particle of matter, say, the atom. This particle of matter is a combination of protons, neutrons and electrons. The electrons go around the nucleus of protons and neutrons at tremendous speeds and they all together determine the properties of the atoms. However, thanks to physicists, it is found ultimately that the nucleus of the atom is just an expression of energy and that the ultimate basis of the manifested physical universe is
nothing but motion or energy
. What's more is that if you go deeper and deeper into the atom until you reach the subatomic scale, you will find that subatomic particles only exists in...
*drum roll please*
THEORY!
That's right, theory. Still with me?
Ok, so what does this all mean? If something is proven to exist only in theory, can we therefore conclude that it is real? Think about it.
The All Is Mind
"This Principle embodies the truth that "All is Mind." It explains that THE ALL (which is the Substantial Reality underlying all the outward manifestations and appearances which we know under the terms of "The Material Universe;" the "Phenomena of Life;" "Matter;" "Energy;" and in short, all that is apparent to our material senses) is SPIRIT, which in itself is UNKNOWABLE and UNDEFINABLE, but which may be considered and thought of as A UNIVERSAL, INFINITE, LIVING MIND."
– The Kybalion
If we cannot find substance in the physical realm, then it must be somewhere else, right? How about the realm of the mind? Would it be reasonable to say that if reality is not physical, then maybe it is
all in the Mind
?
But, of course, you will ask, "What is the Mind?"
If it was only up to me, I'd say don't waste your time thinking about it to save yourself from permanent neurological damage. You will only be going in circles, really.
If you'll ask a philosopher, a metaphysician, or an epistemologist, he or she might say that the Mind is something that is either "
transcendent
" or "
immanent
."
(Take note that we're not talking about the usual "mind" here. The subject is the mind of "
The All
" or the mind of "
God
," something like that.)
When we say "
transcendent
" it means that which is beyond all concepts. My old pal, a suave German philosopher named Immanuel Kant, once said that all of our experiences are bounded by time and space. They take place within space, and they take place in the course of time. Time and space restrict our experiences. Our senses are enclosed in the field of time and space, and our minds are enclosed in a frame of the categories of thought. But the ultimate thing, the transcendent "
Mind
," "
The Mind of The All
," "
God
," "
Spirit
," the "
Supreme Being
," or whatever it is that we are talking about here is not so enclosed. It is UNKNOWABLE and UNDEFINABLE. We enclose it as we try to think of it. The "transcendent" transcends all categories of thinking. For example, being and non-being are categories. When we say that the Mind is or is not, then we are categorizing it.
Mind
may refer to what transcends all thinking, but the word
mind
itself is something that we think about.
Now, when we say "
immanent
" it means that which is essentially present in everything while at the same time it remains to be itself. Many people say that Man is God because God is present everywhere and in everything, but the author of the Kybalion says that it is "
only a half-truth announced by certain of the half-wise
."
"To take a modern example, let us say that Othello, Lago, Hamlet, Lear, Richard III, existed merely in the mind of Shakespeare, at the time of their conception or creation. And yet, Shakespeare also existed within each of these characters, giving them their vitality, spirit, and action. Whose is the "spirit" of the characters that we know as Micawber, Oliver Twist, Uriah Heep – is it Dickens, or have each of these characters a personal spirit, independent of their creator? The Law of Paradox explains that both propositions are true, viewed from the proper viewpoints. Micawber is both Micawber, and yet Dickens. And, again, while Micawber may be said to be Dickens, yet Dickens is not identical with Micawber. Man, like Micawber, may exclaim: "The Spirit of my Creator is inherent within me–and yet I am not HE!"
– The Kybalion
William Shakespeare and Charles Dickens were used here as metaphors to refer to the "substance," the "Mind of The All," the "Spirit," or "God." The characters they created, on the other hand, refer to us, i.e. human beings.
Transcendent or Immanent?
So, what should it be? Is "
The Mind of The All
" something that is
transcendent
or is it something that is
immanent
?
Before you go mental over this question, please bear in mind that reality is tailored to your belief system, which edits out of your consciousness anything you believe does not exist. It is because of this difference in our reality perception that people disagree on a great many things. Sometimes people even go so far as to kill each other. Now, if the transcendent and the immanent are giving you a hard time, you may take refuge in the
Law of Polarity
to reconcile differences like this. Just keep in mind that it is your experience of "
The Mind of The All
" that matters and not somebody else's description of it. Peace out!